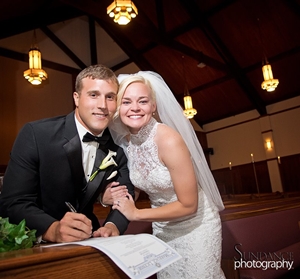 This time last week I sat with my daughter, in the first pew of First Christian Church, watching the wedding of my beautiful granddaughter, Amy.  As tears of happiness started behind my eyelids, I was barely aware of the calla lily corsage pinned to the strap of my bra, the run in my hose that began at my waist and fortunately did not travel to the hem of my dress before we finished pictures, nor the new shoes I had searched long and hard for that now promised to pinch the middle toe right off my foot. I was looking at the natural-blond-all-her-life gorgeous woman walking down the aisle on the arm of her father.
If environment has as much to do with how a child turns out as we think it does, then Linda and Jim did a wonderful job. Amy is strong mentally, physically and spiritually and her choice (she would say God's choice) for husband seems to be a perfect match.
I wasn't fortunate enough to be a nearby grandma; many years we lived 12 hours apart. Our relationship was long distance. I wasn't there when she was born, but shortly thereafter. I didn't attend every dance recital and swim meet, so the ones I did see were very special.
Everything Amy does seems to show her poise and sweet spirit. She is the least "Bridezilla" you will ever see, telling her attendants, "Just wear a short black dress," and at one point telling her mother, "Don't put anything else on the list!"
Oh, I could entertain you for pages with details of the wedding which honored God in every way. But I won't. I'll just say I am blessed to be Grandmother of this Bride.
Thanks to Sundance Photography for the picture. The wedding pictures are fabulous!